Fear protects organisms by increasing vigilance and preparedness, and by coordinating survival responses during life-threatening encounters. We recently investigated the brain basis of acute and sustained fear using "neurocinematics" approach combining detailed movie analysis and state-of-the-art neuroimaging at Turku PET Centre.
What did we do?
Our brave volunteers (n = 37) viewed two horror movies (The Conjuring 2 and Insidious) in the MRI scanner while their haemodynamic brain activity was measured. Viewing horror movies in the MRI is quite an engaging experience, as you are all alone in the small tube and cannot see out, and the movie is shown via goggles just in the front of your eyes. Participants also rated their fear throughout the movies, and the "jump scare" events in the movies were annotated. This allowed modelling of brain responses to both acute and sustained fear. The full report published in NeuroImage may can be read here.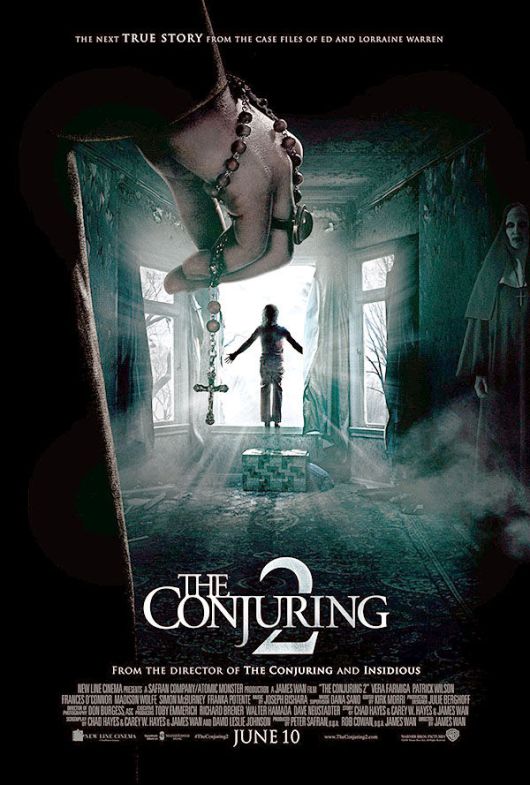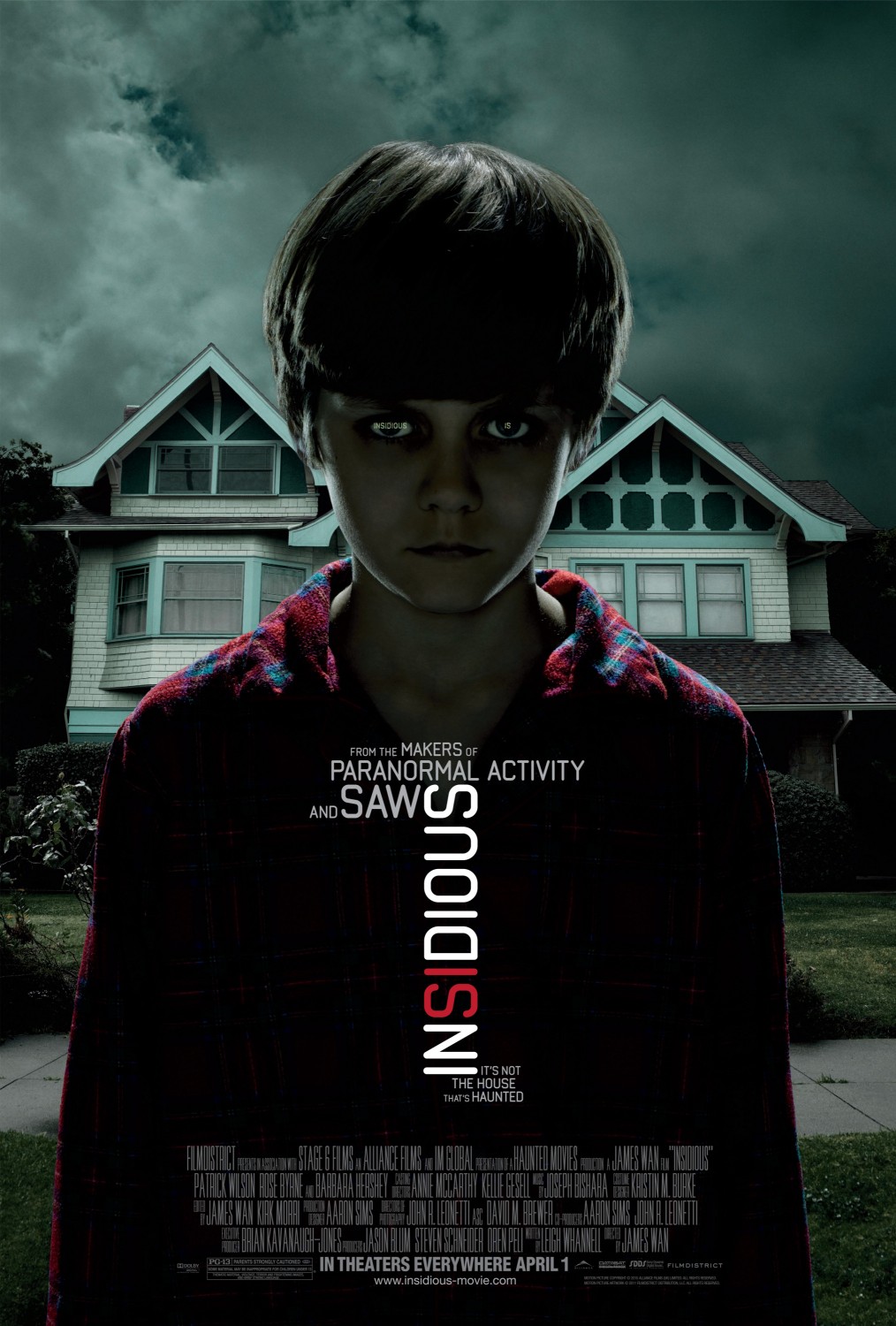 What did we find?
Viewing both movies resulted in time-locked brain activity across the subjects in both sensory cortex and in the dorsal attention circuit, but also in limbic and paralimbic emotion circuits. This synchronisation was consistent across both movies, and its magnitude was greatest in the early sensory areas and weaker in the frontal cortex. Synchronization also became stronger in the cingulate and somatosensory cortices as well as the midbrain during scary episodes of the movies.



Acute fear ("jump scares) increased activity in brainstem, thalamus, amygdala and cingulate cortices, whereas sustained suspense amplified mainly sensory responses. Again, the results were similar for both movies. These data suggest that there is dynamic engagement of different survival circuits in the brain depending on the proximity of the fear.



How did we choose the horror movies?
There exists a large library of horror movies, and we did not choose The Conjuring 2 and Insidious randomly. Instead, we decided to investigate the horror cinema genre in more detail. To that end, we set up a comprehensive horror movie study, where we gathered ratings for a set of 100 popular mainstream horror movies. The movies were pre-selected based on their IMDd ratings, and a total of 216 filmoholics evaluated the movies based on their scariness, quality, and popularity. Number of jump scares per movie were obtained from wheresthejump database that contains timings of jump scares in horror movies. We also gathered data on how often people watch horror movies, and what types of horror is scariest.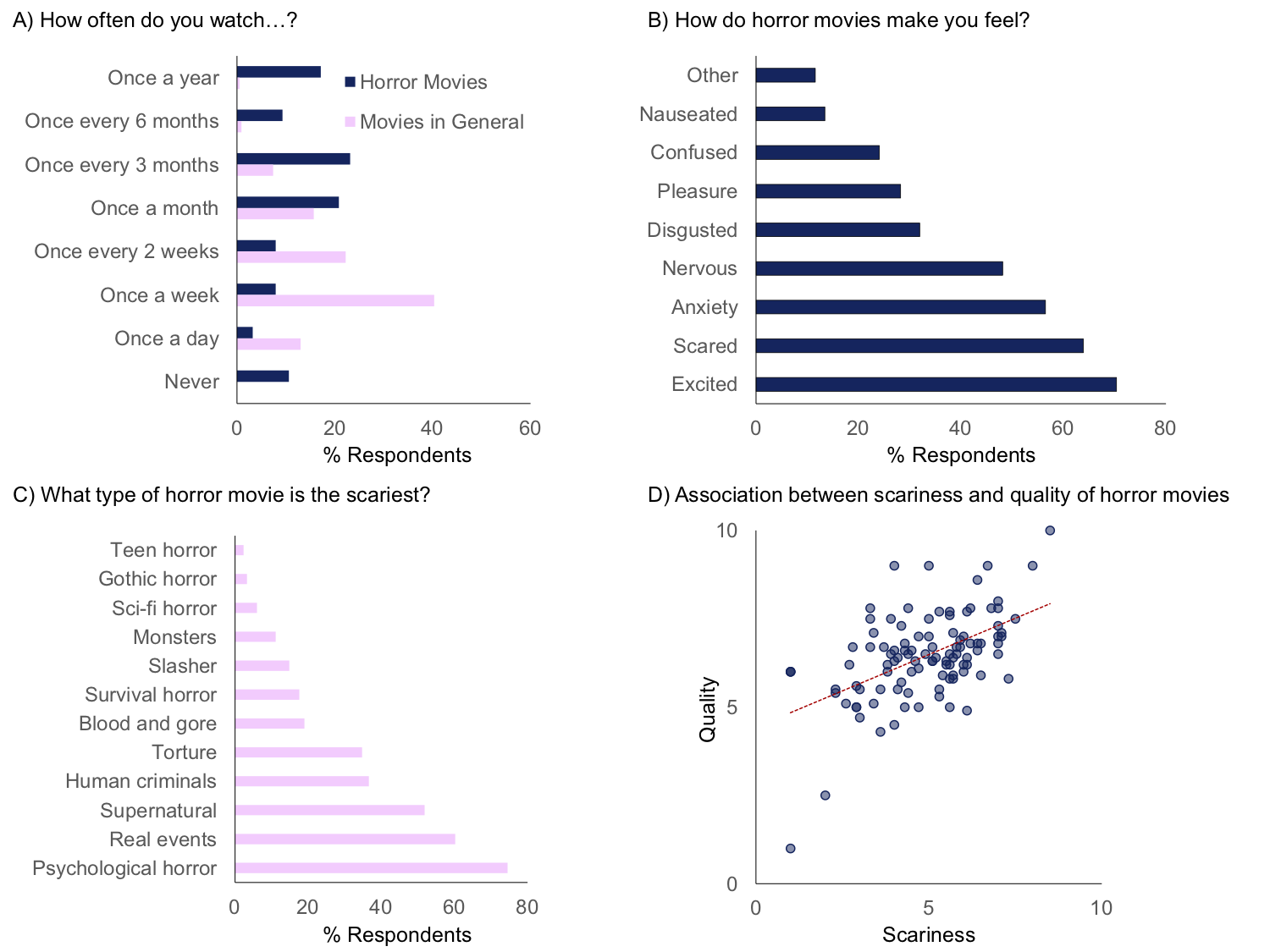 If you want fo find out how well your favourite horror movies scored, see the table below. You can sort the based on different ratings by clicking on the column headers, or you can search for a specific movie using the search field. This way you can see that, for example, that Evil Dead 2 contains the largest umber fo jump scares (27), that the all-time scariest movie is The Devil's Backbone (8.5 / 10) and that pretty much everyone who completed the questionnaire had seen The Shining (81% of respondents).


| Title | Year | Have seen this | Havent seen but have heard of it | Not seen nor heard of it | Scary | Quality | Jump scares |
| --- | --- | --- | --- | --- | --- | --- | --- |
| The Devil's Backbone | 2001 | 4.2 | 6.3 | 89.6 | 8.5 | 10 | 4 |
| The Wailing | 2016 | 2.1 | 8.3 | 89.6 | 8 | 9 | 4 |
| The Conjuring | 2013 | 39.6 | 31.3 | 29.2 | 7.5 | 7.5 | 12 |
| REC 2 | 2009 | 10.4 | 29.2 | 60.4 | 7.3 | 5.8 | - |
| Insidious | 2010 | 29.2 | 25.6 | 45.2 | 7.1 | 7.1 | 24 |
| The Exorcist | 1973 | 53 | 23.2 | 23.8 | 7.1 | 7 | 10 |
| Goodnight Mommy | 2015 | 4.2 | 10.4 | 85.4 | 7 | 8 | 1 |
| A Chinese Ghost Story | 1987 | 1.8 | 7.1 | 91.1 | 7 | 7.8 | - |
| The Conjuring 2 | 2016 | 37.5 | 31 | 31.5 | 7 | 7.3 | 22 |
| Under The Shadow | 2016 | 2.1 | 14.6 | 83.3 | 7 | 7 | 9 |
| Sinister | 2012 | 35.1 | 30.4 | 34.5 | 7 | 6.8 | 17 |
| The Ring | 2002 | 61.9 | 31.5 | 6.5 | 7 | 6.5 | 9 |
| The Shining | 1980 | 81.3 | 12.5 | 6.3 | 6.8 | 7.8 | 3 |
| The Night Of The Hunter | 1955 | 4.2 | 10.1 | 85.7 | 6.7 | 9 | - |
| We Are What We Are | 2013 | 6.3 | 8.3 | 85.4 | 6.5 | 6.8 | - |
| Paranormal Activity | 2007 | 51.8 | 35.1 | 13.1 | 6.5 | 5.9 | 10 |
| The Orphanage | 2007 | 33.3 | 33.3 | 33.3 | 6.4 | 6.8 | 6 |
| The Silence Of The Lambs | 1991 | 54.2 | 31.5 | 14.3 | 6.4 | 8.6 | 0 |
| A Nightmare On Elm Street | 1984 | 47.9 | 37.5 | 14.6 | 6.4 | 6.6 | 11 |
| The Descent | 2005 | 14.9 | 19 | 66.1 | 6.2 | 6.8 | 16 |
| The Others | 2001 | 27.4 | 25.6 | 47 | 6.2 | 7.8 | 4 |
| Poltergeist | 1982 | 37.5 | 47.9 | 14.6 | 6.1 | 6.2 | 9 |
| 28 Days Later… | 2002 | 27.4 | 25.6 | 47 | 6.1 | 6.4 | 10 |
| Slither | 2006 | 13.1 | 34.5 | 52.4 | 6.1 | 4.9 | 10 |
| Alien | 1979 | 43.8 | 35.4 | 20.8 | 6.1 | 7.7 | 11 |
| Train To Busan (Bu-San-Haeng) | 2016 | 3 | 20.2 | 76.8 | 6 | 7 | 4 |
| Halloween | 1978 | 37.5 | 50 | 12.5 | 6 | 6.2 | 13 |
| The Innocents | 1961 | 2.1 | 22.9 | 75 | 6 | 6 | 4 |
| The Witch | 2016 | 10.1 | 16.1 | 73.8 | 5.9 | 6.9 | 4 |
| It Follows | 2014 | 29.2 | 20.8 | 50 | 5.9 | 6.7 | 5 |
| Hush | 2016 | 29.8 | 24.4 | 45.8 | 5.8 | 6.5 | 7 |
| Rosemary's Baby | 1968 | 26.2 | 27.4 | 46.4 | 5.8 | 6.7 | 0 |
| The Texas Chainsaw Massacre | 1974 | 35.1 | 48.2 | 16.7 | 5.7 | 5.8 | 2 |
| The Woman In Black | 2012 | 22.9 | 27.1 | 50 | 5.7 | 6.4 | 16 |
| Don't Breathe | 2016 | 15.5 | 21.4 | 63.1 | 5.7 | 7.1 | 17 |
| The Babadook | 2014 | 33.3 | 25 | 41.7 | 5.7 | 5.9 | 11 |
| The Ring 2 | 2005 | 35.4 | 56.3 | 8.3 | 5.6 | 5 | 11 |
| Lights Out | 2016 | 20.8 | 29.2 | 50 | 5.6 | 5.8 | 19 |
| Misery | 1990 | 20.8 | 16.7 | 62.5 | 5.6 | 7.7 | 3 |
| Psycho | 1960 | 45.8 | 37.5 | 16.7 | 5.6 | 7.6 | 2 |
| The Vanishing (Spoorloos) | 1988 | 3 | 20.2 | 76.8 | 5.6 | 6.5 | - |
| The House Of The Devil | 2009 | 10.4 | 16.7 | 72.9 | 5.6 | 6.2 | 4 |
| Aliens | 1986 | 28 | 42.3 | 29.8 | 5.5 | 6.2 | 13 |
| Pontypool | 2008 | 2.4 | 8.3 | 89.3 | 5.5 | 6.3 | 1 |
| 10 Cloverfield Lane | 2016 | 17.3 | 23.2 | 59.5 | 5.4 | 5.9 | 8 |
| Dead Of Night | 1945 | 6.3 | 12.5 | 81.3 | 5.3 | 7.7 | - |
| Shutter | 2004 | 12.5 | 26.2 | 61.3 | 5.3 | 5.5 | 11 |
| The Haunting | 1963 | 8.3 | 29.2 | 62.5 | 5.3 | 5.3 | 3 |
| The Fly | 1986 | 33.3 | 22.9 | 43.8 | 5.2 | 6.4 | 2 |
| Invasion Of The Body Snatchers | 1956 | 9.5 | 22 | 68.5 | 5.1 | 6.3 | - |
| Night Of The Living Dead | 1968 | 17.3 | 41.7 | 41.1 | 5.1 | 6.3 | - |
| The Mist | 2007 | 37.5 | 25 | 37.5 | 5.1 | 6.7 | 5 |
| Repulsion | 1965 | 2.1 | 8.3 | 89.6 | 5 | 7 | 7 |
| Eyes Without A Face | 1960 | 4.2 | 16.7 | 79.2 | 5 | 9 | - |
| Green Room | 2016 | 6.3 | 22.9 | 70.8 | 5 | 7.5 | 1 |
| Don't Look Now | 1973 | 7.1 | 4.2 | 88.7 | 4.9 | 6.5 | - |
| Jaws | 1975 | 66.7 | 25 | 8.3 | 4.7 | 6.1 | 4 |
| Henry: Portrait Of A Serial Killer | 1986 | 8.3 | 22.9 | 68.8 | 4.7 | 7 | - |
| Scream | 1996 | 64.6 | 31.3 | 4.2 | 4.7 | 5 | 19 |
| Shin Godzilla | 2016 | 3 | 36.3 | 60.7 | 4.6 | 6.3 | - |
| I Walked With A Zombie | 1943 | 1.2 | 7.1 | 91.7 | 4.5 | 6 | - |
| The Cabin In The Woods | 2012 | 41.7 | 35.4 | 22.9 | 4.5 | 6.6 | 13 |
| The Girl With All The Gifts | 2016 | 3 | 7.1 | 89.9 | 4.4 | 7.8 | 3 |
| Carrie | 1976 | 38.1 | 33.3 | 28.6 | 4.4 | 5.4 | 1 |
| The Cabinet Of Dr. Caligari | 1920 | 4.2 | 11.3 | 84.5 | 4.4 | 6.5 | - |
| What Ever Happened To Baby Jane? | 1962 | 7.7 | 26.2 | 66.1 | 4.3 | 6.6 | - |
| Pan's Labyrinth | 2006 | 36.9 | 21.4 | 41.7 | 4.3 | 6.8 | 6 |
| Drag Me To Hell | 2009 | 27.1 | 18.8 | 54.2 | 4.3 | 5 | 23 |
| Eraserhead | 1977 | 10.7 | 13.1 | 76.2 | 4.2 | 5.7 | - |
| Split | 2016 | 11.9 | 32.1 | 56 | 4.2 | 7.3 | 3 |
| An American Werewolf In London | 1981 | 13.7 | 25 | 61.3 | 4.1 | 5.5 | 14 |
| Evil Dead 2 | 1987 | 13.7 | 29.2 | 57.1 | 4.1 | 6.4 | 27 |
| Videodrome | 1982 | 5.4 | 13.1 | 81.5 | 4 | 6.3 | - |
| Bone Tomahawk | 2015 | 4.2 | 12.5 | 83.3 | 4 | 4.5 | 0 |
| A Field In England | 2014 | 2.1 | 8.3 | 89.6 | 4 | 9 | - |
| 28 Weeks Later… | 2007 | 14.6 | 31.3 | 54.2 | 4 | 6.6 | 17 |
| Cat People | 1942 | 3.6 | 16.1 | 80.4 | 3.9 | 7.5 | 2 |
| Let Me In | 2010 | 10.7 | 22 | 67.3 | 3.9 | 6.5 | 3 |
| World War Z | 2013 | 28.6 | 41.7 | 29.8 | 3.8 | 6.2 | 7 |
| Nosferatu The Vampire | 1922 | 12.5 | 52.1 | 35.4 | 3.8 | 6 | - |
| Predator | 1987 | 35.4 | 35.4 | 29.2 | 3.7 | 6.7 | 7 |
| I Am Legend | 2007 | 33.3 | 37.5 | 29.2 | 3.6 | 5.5 | 9 |
| Ginger Snaps | 2000 | 5.4 | 8.9 | 85.7 | 3.6 | 4.3 | - |
| Grindhouse | 2007 | 13.1 | 13.7 | 73.2 | 3.4 | 7.1 | - |
| Fright Night | 1985 | 16.7 | 27.1 | 56.3 | 3.4 | 5.1 | 10 |
| Let The Right One In | 2008 | 25 | 2.1 | 72.9 | 3.3 | 6.7 | 2 |
| Donnie Darko | 2004 | 31.3 | 14.6 | 54.2 | 3.3 | 7.5 | 3 |
| Freaks | 1932 | 3 | 13.1 | 83.9 | 3.3 | 7.8 | - |
| Re-Animator | 1985 | 6 | 12.5 | 81.5 | 3 | 5.5 | 4 |
| The Bride Of Frankenstein | 1935 | 8.3 | 54.2 | 37.5 | 3 | 4.7 | - |
| Frankenstein | 1931 | 20.8 | 69 | 10.1 | 2.9 | 5.6 | - |
| The Host | 2006 | 7.1 | 23.2 | 69.6 | 2.9 | 5 | - |
| Godzilla | 1956 | 16.7 | 68.8 | 14.6 | 2.9 | 5 | - |
| Phantom Of The Opera | 1925 | 22.9 | 60.4 | 16.7 | 2.8 | 6.7 | - |
| Dead Alive | 1992 | 5.4 | 19.6 | 75 | 2.7 | 6.2 | 3 |
| King Kong | 1933 | 26.8 | 58.3 | 14.9 | 2.6 | 5.1 | - |
| Cloverfield | 2008 | 25 | 22.9 | 52.1 | 2.3 | 5.5 | 7 |
| Attack The Block | 2011 | 10.4 | 4.2 | 85.4 | 2.3 | 5.4 | 12 |
| Under The Skin | 2013 | 4.2 | 16.7 | 79.2 | 2 | 2.5 | - |
| What We Do In The Shadows | 2014 | 5.4 | 10.7 | 83.9 | 1 | 6 | - |
| Dracula: Pages From A Virgin's Diary | 2003 | 2.1 | 27.1 | 70.8 | 1 | 6 | - |
| A Girl Walks Home Alone At Night | 2014 | 2.1 | 16.7 | 81.3 | 1 | 1 | 0 |
| Vampyr - Der Traum Des Allan Grey | 1932 | 2.1 | 10.4 | 87.5 | 1 | 6 | - |
| Backcountry | 2015 | 0 | 6 | 94 | | | 4 |